Company Profile
Rochard Shipping Ltd. was founded in I994 by Geoff Rochard-Thomas and is based in Chertsey, Surrey and as such is ideally located near Heathrow Airport with easy access to the docks. From the outset, our aim was to offer an alternative to the corporate — and often inflexible — large forwarders. We have built our business by offering a personalised service to all our customers. Nothing is too large a challenge for Rochard Shipping and we pride ourselves on providing just whatever it is our customers need. As an example, we have set up warehousing facilities in both Barcelona and Ipswich to accomodate the needs of one of our large corporate customers and we continually review our customer's needs to ensure that we can cover all their requirements.
Experience
Geoff Rochard-Thomas has over 35 years of experience within the shipping industry. Between them, our two main account managers have an additional 40 years. With this much experience, we have established many contacts throughout the world which enable us to keep abreast of the many changes within the industry, notifying our customers where those changes may affect them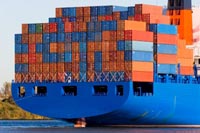 and helping them to plan accordingly.
Quality of Service
Rochard Shipping Ltd. is a full trading member of BIFA. We are also ISO 9001 accredited, which assures our clients of professional service. Our quality control systems ensure the smooth movement of our valued customers' consignments.
Services Offered
Ocean Freight — Groupage and Full Load
Airfreight — Both Export and Import Services offered
Europe — Full Load and Groupage
Letters of credit — All documents catered for
Warehousing Ipswich, Chertsey & Barcelona with pick & pack facilities and full stock control
Cross Trades - With our base of agents worldwide we can offer rates from anywhere to anywhere
Container Consolidations
Products sourcing for our overseas customers
Parcel Deliveries UK & Europe
We have built our company by committing to personal service second to none and as such, will go out of our way to make sure we find the right solution to all our customer's needs — whether a first-time shipper or a large multi-national corporation.