Import Seafreight
FCL : For FCL shipments we will arrange for containers to be positioned at your suppliers loading point whether it be for 20', 40', 40' High Cube, Open Top, Reefer or Flat Racks.
LCL : For Less than Container loads we offer services to all destinations and can arrange for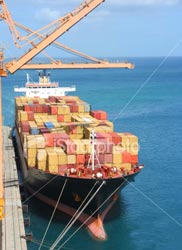 goods to be collected ex supplier's door to be taken back to our agent's depot to load in containers for shipment.
Customs Clearance : We will arrange for all that is required. Customs Clearance, Payment of Import Terminals, Shipping Lines Documentation, HMCE Presentation, Security Charges, Inspection Fees (if applicable) and delivery of goods to your door.
Bonded Warehousing : We can also offer Bonded Storage at our Ipswich Facility. Non bonded Storage can also be accommodated. From here goods can be sorted and split into as many delivery points as you require.
Competitiveness : As with all our services this is of paramount importance and we can offer all advice as to tariff queries to ensure that correct Duty rates are applied with relevant Duty reliefs where applicable..